Posts for the month of November 2008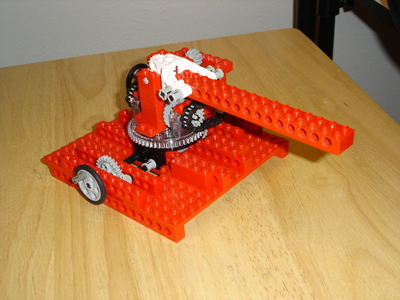 This was an experiment to see if I could create a mechanism that would allow 360-degree rotation while still providing another control. In this case, elevation of a "barrel".
Generally in Lego models you will see limited rotation and the elevation control mounted on the turret itself. I wanted the controls in the platform instead. Rotation of the turret is accomplished by driving the turntable with a gear, and the elevation of the barrel by an axel going through the center of the turntable. The problem is that if that's all you do, the barrel will raise and lower itself as you rotate the turret.
To counteract that, I used a differential geared against the inside of the turntable to remove the rotation from the elevation control. With that, the controls for rotation and elevation are now independant.
Building instructions follow. These instructions were created by photographing the disassembly of the turret piece-by-piece, so they are really reverse-disassembly instructions. But two negatives make a positive, right?
Building Instructions